今天给大家分享【剑16】中的四道part2口语话题。

第一题

根据动词我们可以判断出这是一道事件题,描述你喜欢的一次逛景点的经历。通篇主要需要用过去时态来完成。给大家的参考素材是我几年前去故宫的经历。看似选题平庸,其实很有内容。
I would like to talk about the Forbidden City in BJ. It's definitely one of the most famous tourist attractions in China. I visited it many times in my life andI am going to visit it more in the future, The last time I went there was in a winter with my mother about two years ago. The reason why I visited it was because I just finished watching a TV show that was about the Forbidden city. Many palaces' names were mentioned in the show which aroused my greatest interest in paying a visit again. My mum was also a big fan of this show. Therefore, we decided to go tosee the palaces. Even though it was not my first time to visit the Forbidden City, I still felt a bit dizzy when I went inside because it's so huge. It took us about an hour to find the Palace. You can't imagine how excited I was when I went through the gate and got inside. I was surprised to find that there were not so many visitors on that day, which gave me a good chance to read the introductions and historical backgrounds of this palace. After reading the words, I got more excited and I wish I were a princess who lived in Qing Dynasty. That palace is different from the one in the drama. But it's real. I could imagine what happened two hundred years ago in this palace and how people lived back then. I am sure that it wouldn't be easy for people to survive in a royal palace.There must be a lot of difficulties and troubles and also surprises and pleasure. Anyways, it was an unforgettable visit that left me adeep impression. I hope to visit it soon in the future.
第二题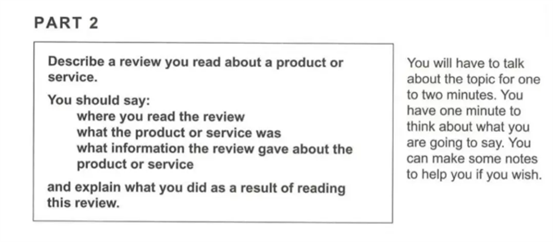 这道题也是一个事件题,描述你读过的一个产品或者服务的反馈。大家要注意一下read作为过去时态的动词的发音,和原形是不同的。素材是关于一个扫地机器人的评价。
I would like to talk about areview I read about a cleaning robot on a shopping application. It was last year when I felt tired of cleaning my rooms with my barehands. I decided to buy a cleaning robot to save me from the heavy housework. I turned on my favourite shopping app and started tosearch for it. It's an app with very limited but good-quality products. I trust it. Compared with using Taobao, I used it more often mainly because it can save me a lot of time. Finally, after about only 5 minutes' searching, I saw a robot that seemed satisfying. The appearance was my ideal colour white and there's a big discount. When I started to read the review, I was even more satisfied because there was not even one bad review. All of the comments about this cleaning robot were positive. I started to become really interested. Then, I saw one review which was written in a very funny way. Of course, it's a compliment. It's just different fromall the other reviews. I was a bit surprised to see it said: this cleaning robot is my best friend because it reminds me how lonely I am when it starts to work every day. It seems a bit pathetic but I could feel that this customer is a true fan of this product. Without a hesitation, I paid for one of the cleaning robots and received it in three days. I would say that the advertisement was not exaggerating and that review was a real one since my cleaning robot also reminds me that I don't have anyone to help me with the housework except for it. That makes me feel a bit sad about myself.
第三题

这道题真的很有意思,让我们描述想拥有的一件奢侈品,还要讲这个东西具体长什么样子。我想了一下,决定说得科幻一些,说一个目前市面上根本没有的东西,想怎么编,就怎么编。
Honestly, I have never thought about owning an extremely luxury item. After thinking for a bit, I guess it would be nice to have a luxury car mainly because my fatheris a huge fan of cars. If I am able to own such a car in the future,it means that he would also own a fancy car because I will buy one for him. Of course, he would be very happy if it's true. I would behappy for him too. I can't imagine how the car would look like. I hope it would be different from most of the vehicles on the streetnow. I hope my car can fly. I have always believed that in the future, cars can fly. By then, cars are still cars but not planes.They can not fly high. They can only fly a few centimetres above the ground but much faster than all the cars now. I also hope that my carcan be invisible. I know it sounds a bit unrealistic. But, you know,dreams are dreams. We should all have dreams and be positive. May beone day, my dream will come true. If I have no dreams, I will have noi nterest in life. I don't want my life to be boring. I also hate tobe too practical and realistic. I like fantasy. I would continue to dream and hopefully my dream car would be made in the future and be parked in my garage.
第四题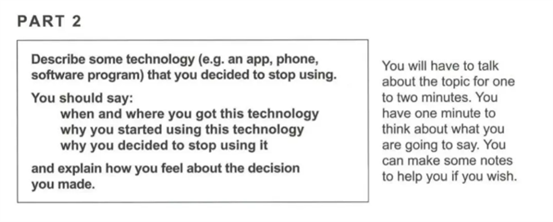 又是一道过去时态的话题,可见这种题型有多么受到出题人的青睐。在每一季的考题中,事件题的确会占到大概60%的比重。本题让我们描述一个你决定不再使用的技术,可以是一个应用程序,一部手机,也可以是一个软件。App这个思路比较简单,就选它了。
I am going to talk about avideo app that I downloaded a few months ago. My mother wanted to watch a drama and the app was the only place where she could watch it. That's why I downloaded it. I even paid 15 RMB to join the VIP even though I didn't want to. I had no choice. If I didn't join the VIP, then my mum couldn't watch the show. It would be annoying.I didn't want to disappoint her. Of course, I didn't tell her about it because she would say she didn't want to watch the show any more if I told her that I needed to pay. You know, mothers, they don't like to pay extra money for services. After she finished watching the show, I found that this app was basically useless because it didn't have the other shows that I wanted to watch. It's not necessary to keep it since I have many other apps where I can watch my shows. It's also a waste of money to keep paying for the VIP service. Therefore, I deleted it from my phone. Somehow, it was a big relief because I had never liked the design of the app. Whenever I turned it on for my mum, I would hope that she could finish watching the drama soon. Finally, it's done. It's gone from my phone. I hope I won't have to download it back.
更多雅思口语考试知识点请持续关注http://beijing.gedu.org